Jess Technology Sdn Bhd
57, Jalan Utama 2/22,
Taman Perindustrian
Puchong Utama,
47100 Puchong,
Selangor, Malaysia.

+603-80669611, +603-80669411

+603-80669711

Johor Office
32, Jalan Rawa 5,
Taman Desa Cemerlang,
81800 Ulu Tiram,
Johor, Malaysia.
+607-863 4036
+607-861 7931
Penang Office
75, Jalan Perai Jaya 3,
Bandar Perai Jaya,
13700 Perai,
Penang, Malaysia.
+604-398 9611
+604-398 9711
Singapore Office
JTC Summit,
8 Jurong Town Hall,
#24-05, Singapore.
+65 9038 7068
+65 6818 0801
Latest News
All News > REPAIR KANNEGEISSER 357.124/7 357 124 7 HMI SCREEN Malaysia, Selangor, Johor, KL, P. Pinang, Perak,
Sep 12, 2014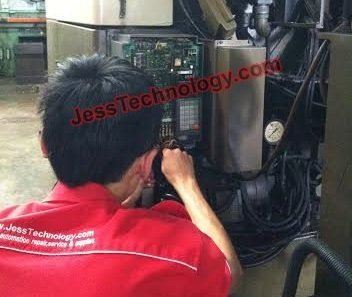 REPAIR 357.124/7 357 124 7 KANNEGEISSER HMI SCREEN Malaysia, Selangor, Johor, KL, P. Pinang, Perak, Pahang, Negeri Sembilan, Melaka, Sarawak, Sabah.
JESS TECHNOLOGY - Malaysia No.1 electronic repair company
JESS are expert in repairing PLC, Inverter, AC drive, DC drive, servo drive, servo pack, PCB, CNC controller, power supply, UPS, power board, control board, industrial monitor / HMI, LCD display, lifting controller, forklift controller and many more.
With over 10 years experience in repairing industry, our technical team are to provide technical solutions and recommendations. We repair products and brands including FUJI, TOSHIBA, FANUC, SIEMENS, OMRON, MITSUBISHI, ABB, YASKAWA, PANASONIC, DANFOSS, ALLEN BRADLEY, ELECTRONICON, INDRAMAT, KUKA, EUROTHERM, CURTIS, EMERSON, FOCKE & CO, GARDNER DENVER, LS, NEMIC LAMBDA and many more.
*WHY BUY NEW IF JESS CAN REPAIR*
Contact us:
* For urgent repair, kindly send the item to our KL / Johor office.
| | | | | | | |
| --- | --- | --- | --- | --- | --- | --- |
| | | Selangor / KL office (HQ) | | Melaka office | | Johor office |
| Address | : | No 57, Jalan Utama 2/22, Taman Perindustrian Puchong Utama, 47100 Puchong, Selangor | : | 298-G, Jalan Kg. Lapan, Taman Kenanga Sek 2, 75200 Melaka | : | No 32, Jalan Rawa 5, Taman Desa Cemerlang, 81800 Ulu Tiram, Johor |
| Tel | : | 03-8066 9611 (Hunting Line) | : | 06-3368 158 | : | 07 – 863 4036 |
| Fax | : | 03-8066 9711 | : | 06-3355 458 | : | 07 – 861 7931 |
| Email | : | info@JessTechnology.com | : | info@JessTechnology.com | : | Johor@JessTechnology.com |
| Web | : | www.JessTechnology.com | : | www.JessTechnology.com | : | www.JessTechnology.com |